Well guys I basically spent all day today working on the boat. Here's what got done.
Console and controls are wired and hooked up. Surprisingly after all the re-wiring I did everything worked as it was supposed to. Only thing left to hook up are electronics like radio, gps, compass light etc. Nothing keeping me from cruising the river.
Gauges look great. Might replace the bulbs with leds but not a huge issue. Fuel gauge read half a tank and also today I drained the tank. There was roughly 18 gallons in it. It's a 50 gallon Moeller tank so seems the gauge is a little lower than what's actually in the tank. But when refueling it 5 gallons at a time I took note of the 5 gallon and 10 gallon reading that way I know when it's time to head home. With 5 gallons the gauge reads 1/16 of a tank and at 10 gallons it reads just a hair under 3/8 so I will know exactly what's left in there. I plan on making a decal with this info so I do not forget.
When I drained the tank I used a hand pump and got as much as possible. There was maybe 1/4" of fuel left in the tank. I pumped the primer ball and sure enough the pickup sucked the tank almost dry. That's great news I guess, seems she'll run til it's definitely out.
Also I added a access for the sending unit and pickup location. The PO recored the hatch and didn't put an access back in it. I feel it's necessary as I'd hate to have to crack the hatch seal if I needed just a quick repair in there. Once I start doing glass work I plan on glassing the edges of the hole to seal the core back up.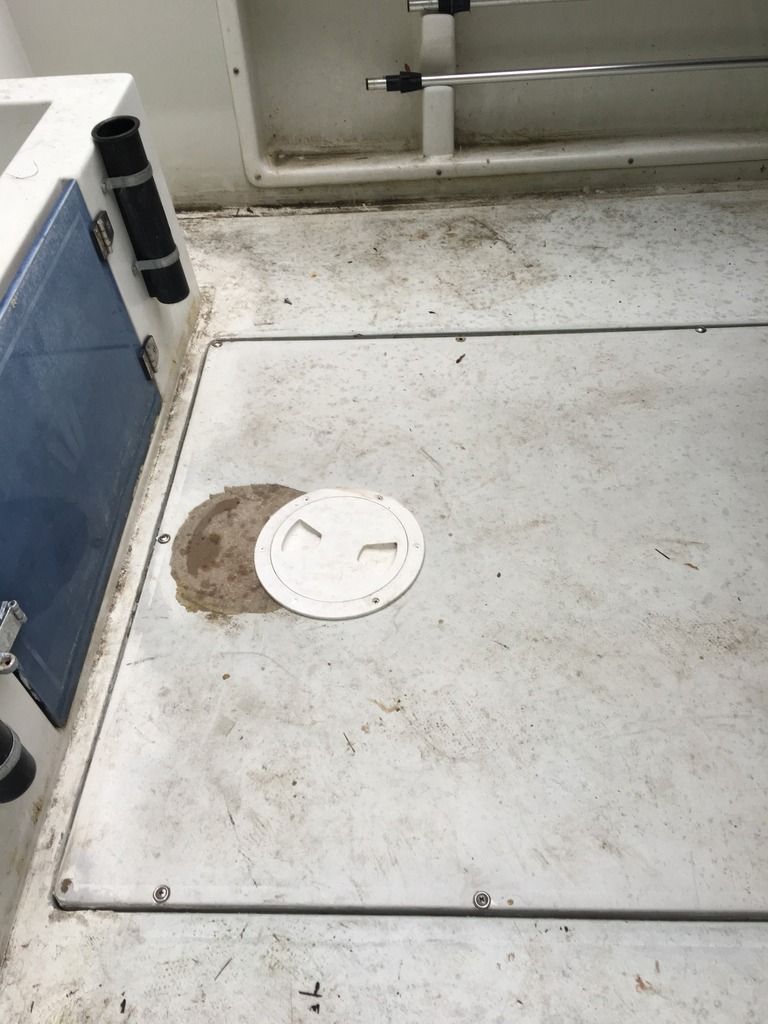 I had bought these stainless rod holders for my green boat to help keep rain water from running down on top of the foam, plus they look much nicer than the cheap plastic ones. This boat was similar in design. Any rain water just ran into the hull and in theory would work its way to the bilge and out but we all know that closed cell foam after many years will take on water. Probably won't stop it but should help.
Got my batteries in and strapped down good. The battery shelf has seen better days for sure. Has a lot of moisture in it. I sandwiched it between 2 pieces of starboard then mounted the battery straps with screws that reach through all 3 layers. They won't move now. Also not sure if it's common practice but I put a toggle switch on one of the lids for the float switch 12v constant supply. That way when it's on the trailer, covered and plug out I can cut it off just for peace of mind that it won't short and drain the battery.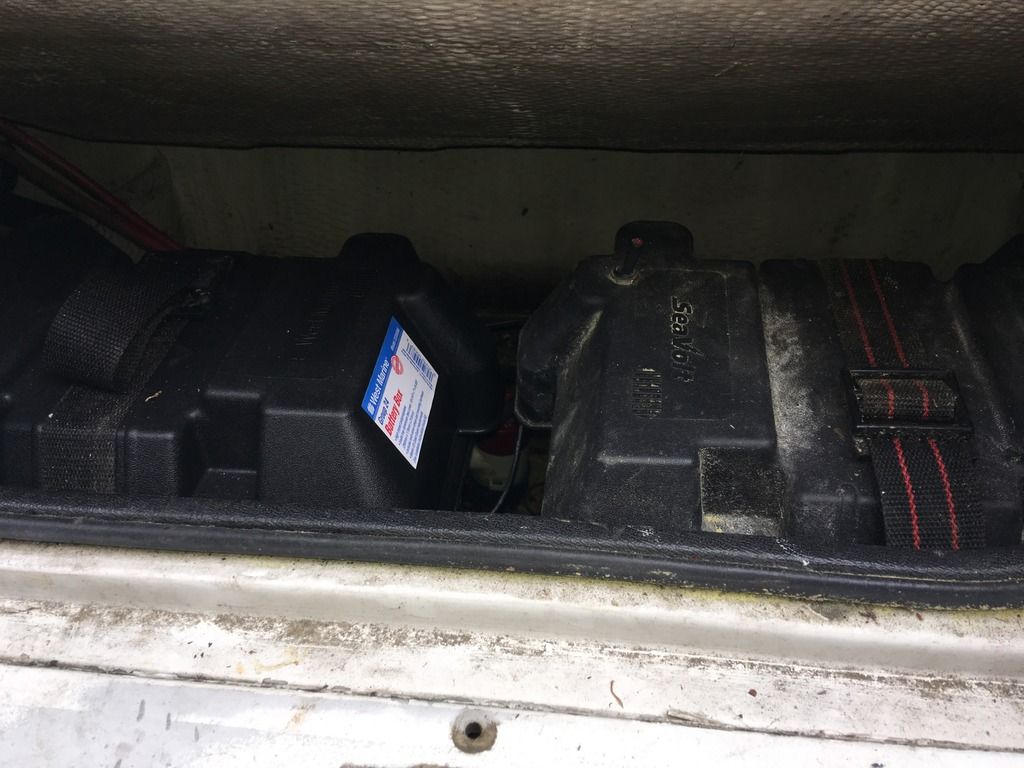 I love the room with just one seat. I plan on running the bean bag chair and getting maybe a couple fold out chairs. There's no way with the floor being soft on the port side where the existing seat was that I can mount another pedestal.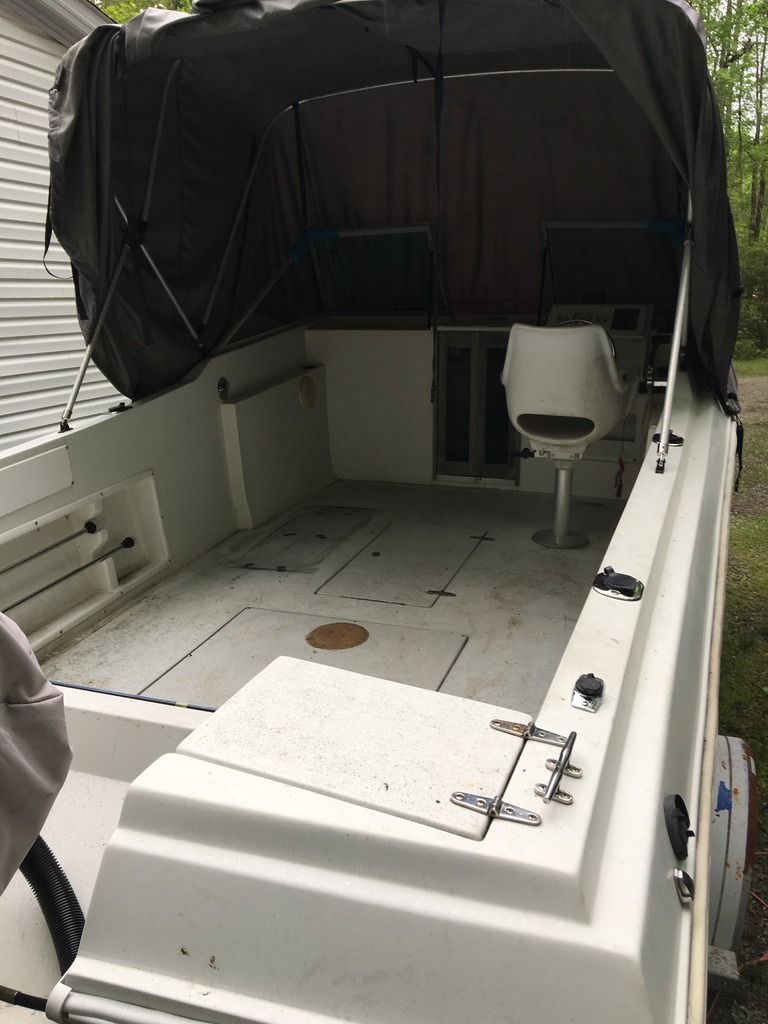 Once fueled up I decided to try and fire the motor. It hadn't ran since I got it back from the rebuild. Primed the ball up good and hit the key and bam!! fired right up. I shut it right down as I'm going to get my buddy to come over when I start it up for good to have him make sure everything seems normal.
Next on the list is trying to inject the soft spot in the floor with epoxy. I have no doubt that the boat needs a floor in the near future, just with all the other headaches I have going on I just can't dig into that right now. Hopefully I can get a couple years out of her with minimal repairs.