Got the new Merc Optimax 200 installed and sorted out. Some of you have seen the Facebook vid - she "pulls like a bankrupt dentist!"
I decided to update the gauges - mainly because of the new Smartcraft tach/system monitor. The tach now includes engine temp, tilt/trim, water pressure, speed, pre-set trolling modes, water temp, and all the fuel functions like the Flowscan including GPH/fuel used/fuel remaining etc. Even though the tach has the same info, I put separate trim and temp gauges because I want to see those with a quick glance: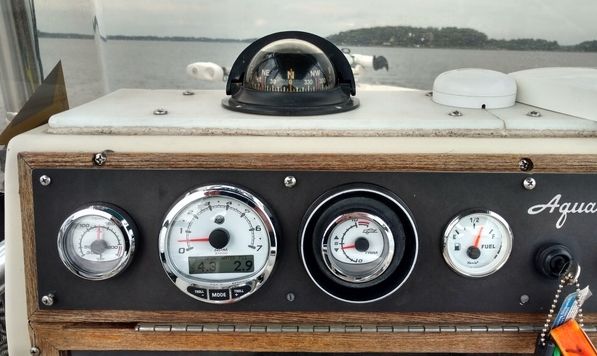 Here's the hole-shot video - what do y'all think of the white rigging tube?
I thought it might go better with the boat color and stand up to sunlight better, but not sure about how it works with the black Merc mota... Fuel economy is interesting - she basically runs over 3 MPG from 25-35 MPH. The Optimax seems to shine in mid-range compared to the older Merc. Also no choke/enrichment, no messing with startup - just turn the key!